I am a pack-rat… Specially when it comes to files.  I tend to download loads of stuff, and keep them in storage, whether I use them or not.  Well, sometimes, I use them, but not all the time, so I keep them in my hard drive, just in case I feel the need to use them.
I was able to fill up my 80 Gigabyte hard disk in a month or two.  I know I placed a lot of movies in there, but most are photos and games and random junk that I can't identify what to get rid of to free some space.
Due to some problems at work where my 20 Gigabyte hard drive-equipped PC (yes, it is old), which is already practically full with office files, and I resorted to storing my files to my co-department's secondary partitioned drive which they did not use, and now restricted access to me, I was forced to buy a new external hard disk drive.  I was planning to put acquiring one on hold until I get a new laptop, but since funding for a laptop got tough, I just set aside my funds.
They initially deleted my files without my knowledge.  I had managed to restore some files with the help of some undelete tools.  But since they seem to be unhappy with me using something they are not using – and letting me know rather rudely, I had no choice but to let my wallet bleed and buy a new external Hard Drive.
Choosing the Drive
There were a lot of considerations that I looked into when I chose the external Hard Drive.  They are as follows:
The hard disk capacity
The Price/Cost
The size/Portability and design
The material it is made of
Any bonus that it come with
My Search
I decided to stick with the 320G Hard Drive.  I would have bought the 500G hard drive if I could afford it, but current circumstances limit my purchasing ability…
I was able to narrow down my search to two brands: Maxtor and Western Digital.  I was able to find one Seagate, but it was a bit expensive for my budget.
Western Digital got the basic and cheaper hard drive, WD Elements, and one with more features, WD My Passport.
I made a little research and found that the security and protection of the WD My Passport did not match what I needed – extra storage space, so I opted for the WD Elements. WD My Passport seemed more of a back-up storage, rather than a library for files.
A basic black design, made with plastic and small in it's 2.5″ size, it's fine for me.
Metric Dimensions:

Height
15 mm
Length
126 mm
Width
78 mm
Weight
0.20 kg
My Experience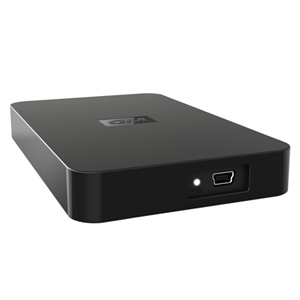 The hard disk is small and light.  I can easily hold it and finding a place on my desk or on the computer itself.
I tried plugging the WD Elements on the front panel USB.  At first, it detected a new hardware, but requested new drivers.  As far as I know, there are no drivers needed for this.  Just plug and play it.  I checked the WD site.  It confirmed what I know.
The third time that I plugged it in, it no longer asked for a driver.  Nothing happened.
This worried me.  I thought that there was something wrong.  I reset the PC, and plugged it in again.  Nothing.
I searched for other topics and forums that could help.  One forum stated the same problem.  It could either be a USB problem or a problem with the HDD itself. I hoped it was just the USB acting up.
One suggestion said that I should try plugging it at the back of the PC.
I did what it said.  Thankfully, after plugging it at the back, it worked!
A new device was found, installed, and everything.  The little icon at the task bar for safely removing hardware was now there.
I haven't tried the transfer rate yet, but I'll get to it soon, as I will be transferring files later on in the week.